Excellent job!! I ordered some kitchen cabinet pulls from you on Dec. 18, 2005. You shipped them out on Dec. 20, 2005. I received them on Dec. 23, 2005. They were a Christmas present to my wife. They.....
MORE
Joe S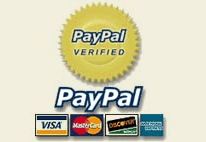 Privacy Policy
We at Aarons Kitchen Cabinet Hardware respect and are committed to protecting your privacy. That is why we have adopted this Privacy Policy.  We promise that we will only use your personal information in ways that are necessary to process your order.
Our Web servers do not automatically record e-mail addresses.
We maintain a strict "No-Spam" policy that means that we do not sell, or otherwise give your e-mail address to a third-party. Secure transactions 128 bit SSL encrypted.